We are a family that truly enjoys being together. More than anything, we love having fun together. We have four wonderful, happy children. Jonathan is twelve years old and in seventh grade. He loves to read, play soccer and spend time with his friends. Michael is eleven years old and in sixth grade. He loves to draw, create guys out of modeling clay and play with his Star Wars Galactic Heroes. Patrick is eight years old and in second grade. He likes to play, bake, draw and is looking forward to harvesting cantaloupes, watermelons and potatoes from his garden plots. Elizabeth is five years old and is in kindergarten full-time. She loves to read books, help in the kitchen and do anything her brothers are doing. We also have a 7 yr. old Border Collie, and two cats, which live mostly outside.

I am originally from this area and have a lot of family nearby. In addition to running our business, I am a writer and I love to read, cook, bake and garden. My husband was born and raised in Yorkshire, England. He moved to the United States to be with me. He loves music and movies, especially Star Wars and Lord of the Rings. Our business provides construction project management and estimating services (www.mosscost.com).
As a family we enjoy spending time outside, swimming, boating, sailing, camping, going on outings, playing games and visiting new places.


The lake house on Clear Lake
When the weather is nice we often spend the weekend at my family's lake house on Clear Lake. It's right on the lake with a great beach for the kids and a sandy, shallow bottom for swimming. We have a pontoon boat and use of a ski boat and two sailboats. Jonathan and Michael love to water-ski, tube, kneeboard and wakeboard, and Patrick and Elizabeth are learning.
We live out in the country, but Auburn is only four miles away. We have about seven acres, half of which is woods. We have a play set in the yard, a vegetable garden and a half-acre pond for swimming and fishing.
We have a one story house with a walk-out basement and four bathrooms. We have wireless internet through the house.
Auburn is the quintessential American small town, with a courthouse and a town square. With a population of about 12,000, most everything we need is right here www.auburn-in.com
Auburn is located about 20 miles north of Fort Wayne, Indiana www.ft-wayne.com, population 250,000. Fort Wayne has a large shopping mall, a zoo, and several museums. We are about equal distance from Chicago, Detroit and Indianapolis, which can be reached by train, bus or plane.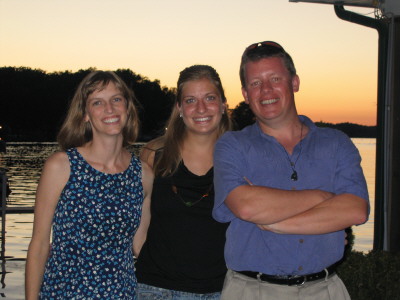 Megan, Kim (a past au pair) and Jon
We have had several au pairs in the past and enjoy sharing our culture, our community and our home. (Read letters from previous au pairs). We are looking for someone to work part-time starting immediately and staying at least 6 months, though we are somewhat flexible on this.
During the school year, you would get up in the morning and help get the children off to school, then you would be available to help in the evenings, normally between 4pm and 7:30pm when the kids go to bed. I go to work after the kids leave for school, and normally come home before the youngest two get off the bus. During the summer you would watch all of the children while I am at work. While you are watching the kids you may also be responsible for taking them to swim lessons, soccer practice or other activities.
One evening per week we need babysitting as Jon and I like to go out in the evening. A couple of times a month, Jon travels for work. When Jon is traveling, I need a little more help, but when he is around, there are evenings when we don't need help, so it balances out. We are very flexible with hours, and would be happy to work with you if you wanted to attend classes at a local college or participate in some other organized activity.
Your main responsibility would be to supervise the children in whatever they are doing. This would include things like supervising chores, helping them with their homework, helping them get their teeth brushed and ready for bed in the evening, and of course, simply playing with them. In addition you might take them to the library, the park, the swimming pool, the zoo or a local museum. We would also like you to do some general cleaning and assist with the laundry.
As a member of the household, you would take part in day to day tidying, meal preparation and clean-up. All of our kids have chores they do every day, including after dinner chores. Some cooking is required, such as cutting and chopping food in preparation for the evening meal and preparing simple meals for the children. Generally, I plan the meals and discuss what I need you to do. Of course, you are more than welcome to use the kitchen or prepare meals for us if you like.
We are offering $100 per week pocket money for this part-time position requiring 20 hours of work per week. Although we appreciate the security working with an agency gives a foreign au pair, the $6,000 fee the agency charges the family makes this option impossible. In order to avoid misunderstandings, we have a written non-binding agreement which we will send you once we offer you the position.
We are happy to have you contact previous au pairs. They are like extended members of our family. We believe open, honest communication is the key to a successful experience for all of us, and we will take time every week to discuss any problems or questions you might have. We also have regular family meetings, which we encourage you to participate in.
Thank you for taking the time to learn about our family. We hope to hear from you soon. If you are interested in the position, please reply to babysitter@mosscost.com with answers to the following questions:
1) What date are you available to start?
2) What date would you like to leave?
3) How many years have you been driving? Have you had any accidents?
4) Are you a good swimmer, comfortable enough to take all the kids swimming at the pool?
5) What child care experiences have you had with children ages 5-12?
6) Why do you think you would fit in well with our family?
We look forward to finding out more about you.
Sincerely,
Megan and Jon Moss and family