Patrick, Michael, Jonathan, Elizabeth and Jon standing outside the zoo. Well, not exactly standing, but hey, this was when we arrived. They had already spent half the day in the car. Can you blame them. (Jon just wished he could be climbing the statue with them)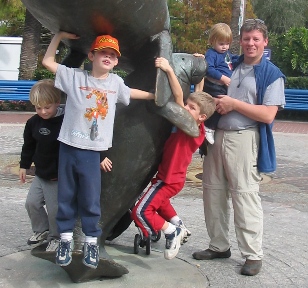 Reindeer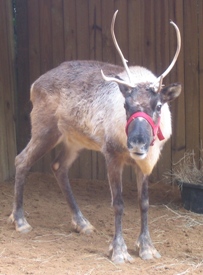 Yes! This is a real live reindeer. Who said Santa wasn't real? I believe. Now Mr. Reindeer, just let me hitch up my sleigh so we can go for a ride.

Monkey Calls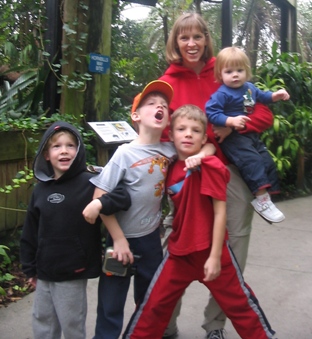 Patrick, Michael, Megan, Jonathan and Elizabeth in the rainforest area. I wondered if I didn't have a monkey for a son as Michael starting howling and screeching, "talking" to the monkeys.
Fish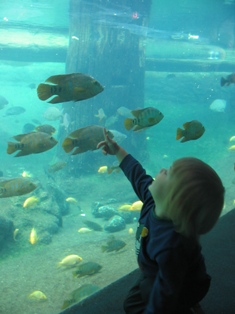 "Look!"
"Fish!"
OK, so it wasn't a scintillating conversation, but she sure looked cute, showing us her favorite things in the aquarium tank.
Jon?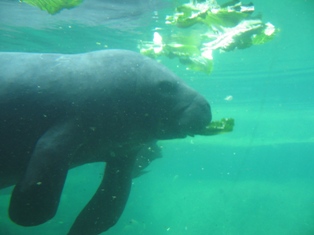 Hey, is that you? Or maybe you in a former life. Doesn't look too bad, lolling around in warm water, munching on seaweed. Gotta watch out for those speed boats though.
Sting Rays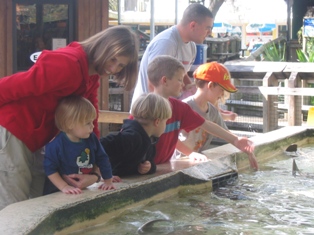 Megan, Elizabeth, Patrick, Jonathan and Michael "petting" the sting rays. Felt smooth and soft. They splashed too!
See a BIGGER picture of the family