Happy New Year! Hope you had a great holiday season. This past year has been an eventful one for us. In March, Jon and Megan bought a commercial building in Auburn and a couple months later Moss Construction Cost Management opened its Auburn office.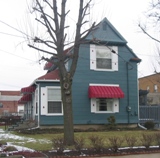 Since school started Megan has been doing marketing for the company one day a week. She also took a web design class, learned HTML and created a new website -- check it out at www.mosscost.com . Jon has been working hard for his DC clients as well as his local client, Eckhart Public Library.
We did quite a bit of traveling this year. In January Jon went to England to check on his dad's health. We're happy to say he's doing much better since his successful gall bladder surgery this past summer.
Jon and Megan got a chance to get away for a bit of sunshine in February with a business trip to St. Lucia.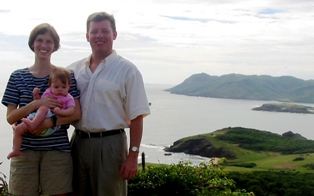 Elizabeth came along and got her first chance to swim in the ocean.
Megan also got a break with a trip to San Diego to visit her good friend Bey-Ling, who recently moved there from DC. She took Elizabeth and Michael with her. Michael's favorite part of the trip, besides the plane ride, was a visit to Sea World. Megan enjoyed the warm weather and sunshine.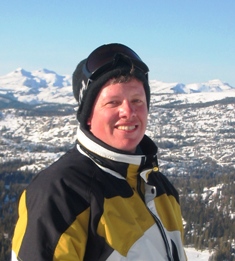 Once again Jon took part in the guys' ski trip. This year they went to Tahoe at the end of February.
In May, Jon and Megan left all the kids behind and joined Karen, Jack, Bridget, Trey and Devon for a two-week trip to New Zealand to celebrate Trey's graduation from college and Bridget's graduation from medical school.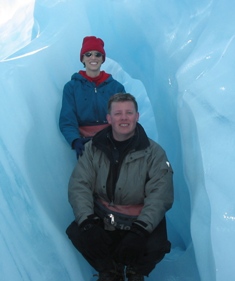 One of the highlights of the trip for both Megan and Jon was heli-hiking on the Franz Josef glacier, one of only three glaciers in the world to go all the way down to the sea.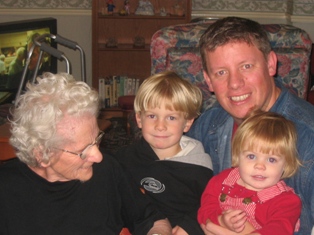 Just before Thanksgiving the whole family went to England to spend two weeks visiting Jon's family. Megan took the opportunity to go to Strasbourg, France for 5 days to see her friend Nathalie who was pregnant with her first baby.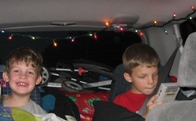 Our last trip was to Florida for 8 days at Christmas. Although it felt strange to be celebrating the holiday without any snow, the family got into the holiday spirit by stringing lights inside the van on our final drive on Christmas Eve. The weather was warm and sunny and we all enjoyed playing on the beach. The boys got a nice treat when we spotted dolphins on the intercoastal waterway during our boat ride.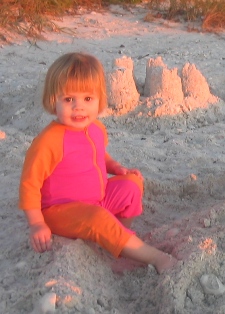 Jonathan has been enjoying 3rd grade, though he finds it more challenging than last year. Michael is in 2nd grade. His favorite part of the day is lunch and recess. All three boys have been taking swimming classes and have made significant progress. Jonathan and Michael are now swimming the length of the pool and Patrick no longer needs to wear extra floatation during lessons.
Elizabeth is growing up faster than any of us would like. At 19 months she is starting to talk and is interested in sitting on the potty though she hasn't made many deposits yet.
We hope you are all well, and wish you all the best for a wonderful 2006.